Starting Kennels
How to Start a Successful Boarding Kennels or Dog Hotel Business
Discover how to start your dream kennels or dog hotel AND save yourself 6 months research time.
The 2 BIG Startup Questions
These are the most important questions to ask when you are thinking about starting a boarding kennels business:




Is starting a boarding kennels right for me?

Where do I start to create kennels that are successful and inundated with delighted, caring clients?
Getting the Answers
What you're about to see has already helped
1193

potential kennel owners around the world.
844 were thinking about starting kennels.

329 already knew this was the lifestyle for them, but they needed reassurance and confirmation they're doing the right thing for themselves and their families.

19 already own/run existing kennels
The above figures in purple are LIVE (real-time). Proof that this really does help people make such a big decision.
With customers all over the world, most are in the UK, USA and Canada, but also with customers in many other countries including Australia, New Zealand, South Africa, Norway, France, Cyprus, Spain and many others.
This information will help ALL types of kennels: boarding, rescue, quarantine, veterinary, pet and breeders.  Mostly though, our customers are caring people interested in boarding kennels as they need to 'make a living' from caring for dogs (thanks to the very high cost of property/ land today!).
Starting a Boarding Kennels Business
Is this YOUR dream too?
Do you dream of running your own kennels and completely changing your lifestyle and career to work with dogs?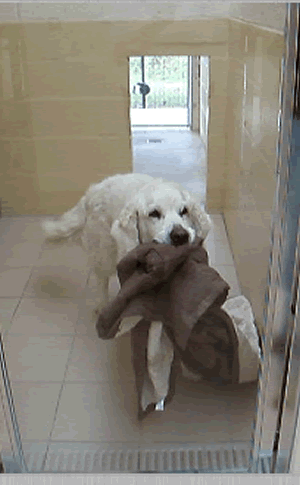 Even today, with so much information on the internet - there is hardly any expert information on starting a kennels, and nothing else that helps you make this big decision with the depth of expertise you're looking for.
This website is here for you if you don't know where to start and are wondering if it's the right vocation for you.
Like you, those who already had help just wanted the comfort of being walked through the early stages with expert guidance, encouragement and reassurance.
"I just wanted to say 'Thank you' for your website as now I truly feel that I can get excited about realizing my dream of running a kennels. I feel your website gave me the right to get excited. I feel as though my long dream will come true AND I will have support from experts will achieve it."
Shelley Leahy, Co. Kerry, Ireland
Why I want to help you get it right
I'm doing it for the right reasons: animal welfare and encouraging those who truly want to make a difference.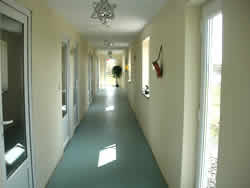 There are many kennels who just don't care, or they have given up caring. They may have got into it for the money originally, but now it is rapidly dwindling because they didn't create a business that would work well into the future. Their premises have fallen into disrepair, smell dreadful, attract the cheapest end of the market. Quite simply, they didn't assess their suitability or do their research.
What they don't yet realise is that caring dog owners want more than that. They want gorgeous, quiet, clean and animal welfare friendly places where they can safely leave their dogs in trusted hands. With the right kinds of people. My existing clients are a testament to this!
Here for you: encouragement and support is essential to help the best people to start kennels successfully.
To improving the welfare and lives of dogs with knowledge & better standard kennels.

Pet owners are demanding more choice of better caring and professional kennels.

To help new owners create businesses that are extraordinarily successful - much more so than typical kennels - which rewards them personally and financially for the extra-special thought and care they've invested.
"I am an RSPCA Inspector so fully understand many of the aspects covered by the course. It was really useful however, to be reminded of all the different things to consider for such a business venture. Super website, thanks. I have also purchased the book from Amazon"
Who are the right people to start kennels?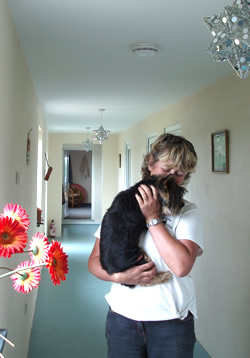 You need to be a caring person who is willing and able to invest enough time, money and thought into your business to create the best kennels you can.
Sounds simple enough doesn't it? But the world is in dire need of more people like this. If this is you, you're a rarity - but be assured that you're not alone!
You deserve every support and encouragement possible to get started - which is exactly why I created this website for you.
"Finding your website was a god-send!"
Michele Duval Lane, Cognac, France (moving to Toronto, Canada)
How to be successful and create kennels to be proud of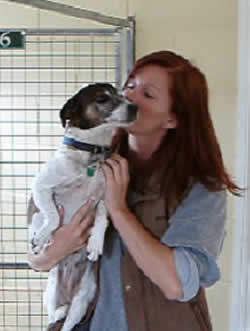 You have to be genuinely interested, dedicated, even passionate about learning as much as you can on dog welfare, kennels standards and the needs and desires of dog owners today.
You need to care enough to do something better, or even extraordinary as many of my dog hotel clients have done. Provide a fantastic service so that customers will do your marketing for you and recommend you to all their friends!
This is just the sort of person I want to help! Is that you?
If you 'want to do it right' (thankfully a phrase heard often!) you will be so much more successful, happy, and financially better off.
You'll be able to charge higher fees that match your higher standards, so you can build less units and spend more time with the dogs you are looking after. It's a job in a million!
Can you see how much more enjoyable and fun it will be to work this way? You'll be successful - and you will make a MUCH better income!
There just aren't enough kennels like this. When clients start up their new kennels and exceed all expectations, what happens is that their customers start booking multiple holidays immediately when they find such an inspiring, professional and caring kennels.
The 10 Questions you should be asking
I will give you the answers to the Top 10 questions that everyone starting kennels asks: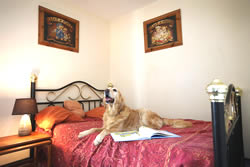 Where do I start?

Do I need a licence?

What legislation applies?

Do I need qualifications or experience?

Do I need planning/zoning permission?

How do I find out more about the lifestyle?

Do I buy an existing property or build new kennels?

How will I know if my property is in a good location?

How do I prove the need for a new kennels in this area?

What makes a good/bad kennels?
(I want to do something better/special)
Once you know the answers... your confidence will soar!
Encouraging MORE Caring Kennels
I want to encourage the right people to start high quality,
luxury kennels & dog hotels with CONFIDENCE, FASTER
and create more great places for dogs to stay.
So I've created something special to help you too!
Making It Easier for You
I've helped hundreds of people make the decision whether to go for it (or not). I'd love to help you too.
5 Things the Starting Kennels Course will do for you:
Discover if starting kennels is right for you.

Find out where to start.

Answer the Top 10 startup questions asked by others who have been in the same position as you.

Bring you confidence and reassurance by knowing where you are, what you need to do, that you are not alone and being guided step-by-step in the right direction.


We can take at least 6 months off your research time! Most people take 1-to-2 YEARS from just thinking about starting their kennels, to actually getting it built.
Decide & Start Faster
Available with instant online access with a 90 day money back Guarantee.
PART 1: Is it right for me?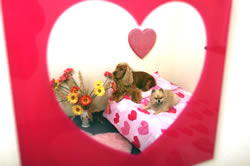 It's a BIG decision for anyone. To change your lifestyle, your career and maybe your home, start your own business, build a special kennels building. Exciting - but a big decision! This is probably the biggest challenge and investment you will ever make - so you need to be absolutely confident.
So I created the Course with all the things you want to know about starting a kennels. But didn't stop there - the Course also includes the information to help you decide and how to feel confident it's right for you - as well as where you should start.
"It's good to know you have someone you can turn to in times of crisis or uncertainty. I shall be buying your book and no doubt visiting your site again and again, very comprehensive for beginners."
Steve Halsey, Slough (not for much longer hopefully!) UK

PART 2: Where do I start?
"I would love to open a boarding kennels to run myself.
I just don't have a clue how to begin - HELP!!!"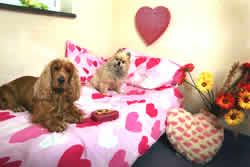 If you're feeling like this, I understand exactly the frustration you are going through right now. The same is true of any business, but particularly so for a boarding kennels, where you are caring for, and completely responsible for the dogs and puppies in your care; your home life and work are combined on one property; you need land and buildings; you're starting a business and need it to be profitable.
But hand-on-heart, the hardest part of thinking about starting a boarding kennels is just the amount of thought and research that has to go into it to make your decision, and then the frustration of not knowing where to start! If I can lessen that pain (and time) for you, then I will have helped the world achieve another high standard facility - and faster than normal.
"I didn't know how to start and you gave me a lot of things to think about!
Now I am seriously thinking about opening a kennels. I will start on my research and hope for the best! Thank you for such an informative website! It was most helpful!"
Sheri Lockhart, British Columbia, Canada
Expert Guidance & Encouragement - the Magic Ingredients
Give you guidance and encouragement... they're vital when there is so much to learn and do.
"It felt like you were talking to US!"
If it feels like I'm talking to you directly, then that's because I am! It's like having a marathon conversation, getting all the best tips and advice – but in a way that makes it easy for you to come back to, and find out in your own time and at your own pace.
I've taken all the questions, queries and phone calls about starting kennels, given the examples and help offered, and turned all that valuable information into this Kit.

"Excellent, very helpful and informative.
Just what I needed!"
Allyson White, Cologne, Germany

With all the information here, you can get started on your own right now! All the essential information to you to get you started and build your confidence.
Guaranteed to help you make your decision, give you confidence in what you're doing and show you the steps to get started. No more endless searching on the web, wondering who you can/can't or should/shouldn't be talking to. No wondering whether you are getting the best advice or not!
"I have enjoyed your website enormously. Whilst reading through the site and completing your course I have contacted my licensing officer and they are sending their application forms and are arranging to come out to see the proposed site! I will also be ordering your book through Amazon"
Karen Rogerson, Norfolk, UK
Through this Kit I will give you the guidance you need at this stage in your dream – it's easy to read and understand – and you'll have FUN learning more about yourself and what you want to achieve. That's a promise!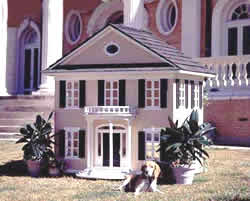 Because this is online (you just set up your own password to access it) - there's no waiting for the post, no paying for shipping - you can start your research right away.
Just click the 'return to merchant' button/link PayPal gives you.
By the way, PayPal will also send you a receipt - we suggest you save and print this - so you can claim it back from the taxman as a business expense later.
If you have any problems at all, please just contact Kay straight away and I'll be glad to help you get up and running.
"Excellent brainstorming! It really did get me thinking and help me grasp the different elements involved. I knew opening a Boarding Facility was what I wanted to do - and this confirms this - but now I feel confident I can make it work. Thanks!"
Nadine Henchoz, Haute Savoie, France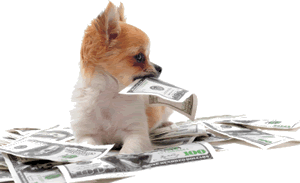 Take 90 days to use your Course.
If you are not satisfied that it has helped you discover if starting a kennels is right for you (or not!), and how to get started if it is - we will refund you completely.
If you're not delighted to have all this start up information and help on discovering if it's right for you - at your fingertips, just call or email within 90 days for a complete 100% refund. No questions.
Even if you cancel, you will still get to keep the fantastic THREE free eBooks as my way of encouraging those who really are caring enough about dogs to get all the right kennels start up information.
"Thank you very much. We are currently in process of purchasing small kennels and I found your website is very helpful."
Takako Diddams, Hertfordshire UK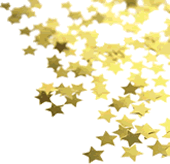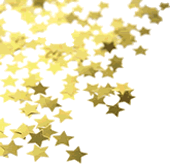 Free Gifts for You to Keep,
Whatever You Decide
If you're now feeling excited that this really might be for you,
we'd like to give you even more encouragement:
This eBook will actually help you to DECIDE if running a boarding kennels is right for you... AND start to pull together your ideas!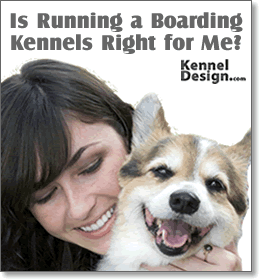 PDF eBook
Nobody else does a questionnaire to assess kennels owner suitability to help you make your decision!
This "fill-in and complete" eBook looks at the next stages in MUCH more detail. Helps you think through the actual day-to-day elements of running a kennels, your vision for the type of kennels business you want to create, and gives you starter information to prompt you for all your image, marketing materials and website.
It will help you plan for and achieve the ambitions and ideals you have for your kennels into EVERYTHING - the design, the image, your logo, your marketing materials and website, the customers you will attract, and how you want your kennels to be run.
FREE with your Starting Kennels Course
Assists you when viewing or purchasing either a new or existing kennels business, whether on new site OR your existing property.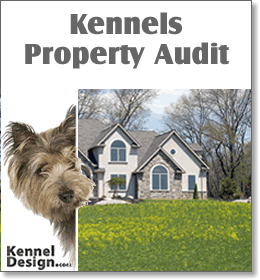 PDF eBook
Logically compares ALL properties you visit for best price negotiation. Nobody else does a survey for new/potential kennels property!
This is a survey report which includes tips, suggestions & encouragement to assess properties YOURSELF for physical, practical, environmental, business, building or maintenance problems, potential costs and planning/ zoning permission characteristics.
Contains purely kennels-related property tips that a surveyor would NEVER KNOW to look for or be able advise you on.
FREE with your Starting Kennels Course
HOT TIPS from a leading specialist kennels agent/realtor.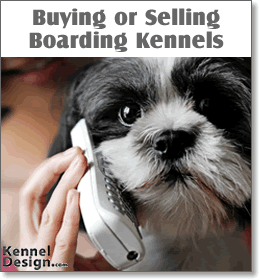 PDF eBook
With over 30 years of helping people buy kennels and kennel businesses, and helping kennels owners sell their businesses - a leading UK kennels and cattery property sales agent reveals the hottest tips for buying an existing kennels business.
What to look out for when considering purchasing
Learn the mistakes that buyers and sellers make
Things that can go wrong when buying a property, what to look out for
How to make the most of your investment and show your business in the best light, whether you are buying or selling a kennels property
How to look at seller lack of planning to negotiate your best price
FREE with your Starting Kennels Course
You can only find out if starting a kennels business is right for you by taking that first step.
So, test this Kit out for yourself, let us help you make the decision about whether it is right for you to start up a kennels - with confidence, try out as many of the steps and recommendations as you like in your own time.
Once you realise the joy of having all the information you need on starting a kennels at your fingertips (and the confidence to go ahead) I'm confident you'll NEVER want to give that knowledge and understanding back.
I believe in this Course being able to give you the answers you want so much, that I offer a 90 day guarantee - because I KNOW it provides the answers you're looking for at this stage. I've been asked these questions countless times by others who were in exactly the same situation as you are now.
"Thank you so much for all the advice you have given me, I did indeed read the 'Where to start' bit first! and the downloads are fabulous, I feel like I'm reading for England but I want to be aware of as much as I can before I open my kennels!

I really enjoyed the 'Where to Start', I think you have written it exceptionally well. It really made me think in depth about my own ambition to realise my dream, and to look at it from a realistic point of view, its very easy to see your dream through rose coloured glasses I think!"
Carol Crowhurst in Essex, UK

"Reading this course has confirmed a lot of things I already thought I knew about good kennel management and has let me know how you achieve it, which I was not so sure of in terms of building design.

Thankyou for that and for the step-by-step unscrambling of what was a jumbled mess in my head of how to proceed! Thanks for the course - but not the sleepless nights it will generate(!) as I impatiently pace the floor and run my future kennels in my mind and on paper for now!

You have been really helpful so far and its a relief to be able to communicate with people who believe in what I want to do. Thanks for your time and support."
Julie Moss, Lancashire, UK

If you've read this far, this could be your ideal lifestyle.
Stop wondering! Take the first step now...
This kit is available to you online for 1 whole year, but you probably won't need it as long as that, as it will help you find out where to start in your first week! But if you do need it after a year, just let me know. And remember, your free eBooks are yours to keep, just download them to your computer.
I'm completely confident that this will help you make the decision about whether starting a kennels is right for you, and how to get started because we have built it around all the startup questions asked!
Join hundreds of others, who are making caring kennels a reality:
Starting Kennels + 3 FREE Gifts
Normally £24.99
- just £19.99 during
November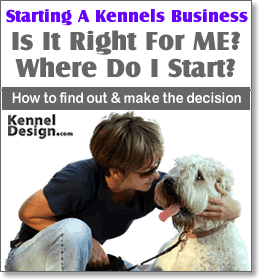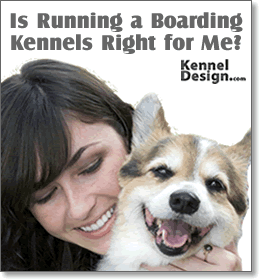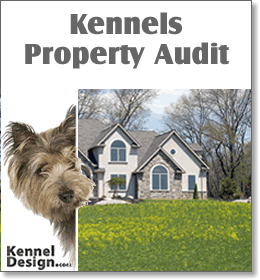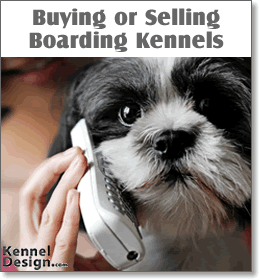 Get instant online access to Starting Kennels for One Year + THREE FREE Gifts
IMPORTANT: for instant access...
Once you've paid, PayPal will confirm it, thank you, give you a transaction number, say they've sent you a confirmation email AND...
give you a small, special link to come back to us:
(it will say: Return to Kennel & Cattery Design).
you MUST click it to get your Course immediately.
If you are having problems with the Add to Cart PayPal button, please click here instead. If you forget to click the PayPal link to come back for immediate access, please contact Kay (link below).
Convert £19.99 GBP currency to:
US $
|
Canadian $
|
Euros
|
Australian $
|
New Zealand $
|
Rand
If starting a kennels is your dream, I will do everything I can to help you achieve it if it's right for you.
Remember, there are already thousands of caring dog owners who really want to find lovely, caring places for their dogs to stay.


If there are other questions not answered here, please contact me.