10 Room Dog Hotel Blueprints/Plans
with reception, office, kitchen, toilet/shower room and store /laundry/ grooming room
Everything you need for planning/zoning and to give to your builder to tender
These will all be emailed to you:
Blueprints/Plans
Plans for your planning/zoning application
with an option to order printed paper copies.

3D Images
3D Visualisations bring your kennels to life for planners/zoning, builders and future customers.

Pricing Document (for quotations/tender) & Schedule of Works with a Timescale Program (project planner)

Blueprints/ Plans/ Designs

/ Drawings
Architectural & builder specific plans
You will need layout drawings to submit your planning/ zoning application.
Quite simply, it is a stunning, calm and restful dog hotel.
This design is ideal if you have any of these needs:
Desire a high-end, show-stopping look with ultra quiet and calming design features, or if you have a very private setting.

Have concerns about your climate (extremes of hot or cold temperature).

Have concerns about security or noise.
10 Suite Dog Hotel with reception, office, kitchen, a toilet/shower room and a store/laundry/grooming room.
This simple diagram shows the different functional areas by colour: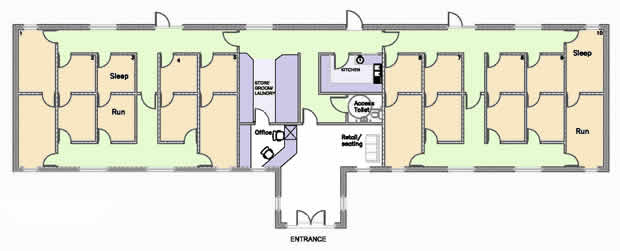 Key: Green = corridors | Orange = sleep/run | Blue = utility areas | White = reception
Easy to customise
Inludes all 3 x external wall finishes of render, cladding, or a mix of both - for you to choose from.

Make windows and doors glass (or even mesh or bars).

Create more extensive sleep or run areas by 'removing' the corridor on one side of the building to create to take it to the outside wall.

Don't want such a big room for grooming/store or another area? Make it whatever you want it to be! Just request changes from us, or tell your builder.
Blueprints/ Plans (3 drawings with 7 elevations each)
Making it happen...
To get the ball rolling you will need to supply your local authority with a set of plans to apply for planning/zoning permission.
Your plans will be seen by those who make the decision about granting your application, including your Planning/Zoning Officer, Highways/Traffic Officer, and Dog Boarding Licensing Officer.
3 x Drawings for different finishes:

Rendered walls
Cladded walls
Part rendered & part cladded walls

7 x Plans included in each of the 3 drawings:

1 x Front elevation
1 x Rear elevation
2 x End elevations
2 x Sections
1 x Layout
Layout & Sizes
All dimensions are shown on the plans in a choice of either metric (metres & millimetres) or imperial (feet & inches) measurements - it's your choice.
Sizes
Metric
Approx Imperial

---

Building:
38.1m x 9.4m (358m sq)

125ft x 30ft
Corridors:
1.5m wide
5ft wide
Reception:
4.5m x 3.6m
15ft x 12ft

---

Sleeping Area:
2 x
4.5m x 2.4m
14ft x 8ft
8 x
2.4m x 2.4m
8ft x 8ft

---

Exercise Run:
2 x
4.5m x 2.4m
14ft x 8ft
8 x
3.0m x 2.4m
10ft x 8ft
Bringing your dream to life...
Photo-realistic 3D visualisation & motivation aids
Planning/zoning find these useful to visualise what you have in mind. Remember, their knowledge will be limited to poorer standard kennels that result in lots of noise. You need to be the expert here.
Our 3D visualisations will bring your dream to life for everyone involved! They can be used for your:
Planning/ Zoning department
Builder/Architect
They are also useful for showing customers what you are building and on your marketing materials while your kennels are beings built. They can be used for your:
Future customers
Website, advertising, brochures, leaflets, flyers & business cards
Ten x 3D Visualisations included
3 x Rendered Walls (day, night & snow)
3 x Cladded Walls (day, night & snow)
3 x Part Rendered & Part Cladded (day, night, snow)
1 x Internal Layout (Bird's eye view)
Rendered Walls 3D's

---

Cladded Walls 3D's

---

Render & Cladding 3D's

---

Internal Layout 3D
These images are shown in greater detail in the movie at the top of this page.
Building Specification
Builder quotes/tender and construction guidance.
Ideal for when you are ready to start getting quotations for labour & materials and start building.
Tells you how to build using our kennel specifications (most importantly helping your builder avoid common & expensive kennel-building mistakes due to lack of kennel facility experience) and how to price up the cost of your kennels accurately.
Helps save you a great deal of money and research time on materials/ products/ comparing quotations.
Priceless reassurance & support for your project.
Pricing Document & Schedule of Works
Getting accurate costs
A simple but highly effective pricing document to give to builders for quotations (tender) to help ensure you receive a full costing from prospective builders to the standard you will require.
Available in both Word document and Excel spreadsheet formats to allow full customisation.
Demolition & Excavation
Substructure
External Walls
Roofing
Internal Walls
Windows & Doors
Floor & Wall Finishes
Ceiling Finishes
Decorations
Mechanical Services
Electrical Services
Fixtures & Fittings
External Works
Drainage
Kennel Metalwork
Other Items
Pricing Summary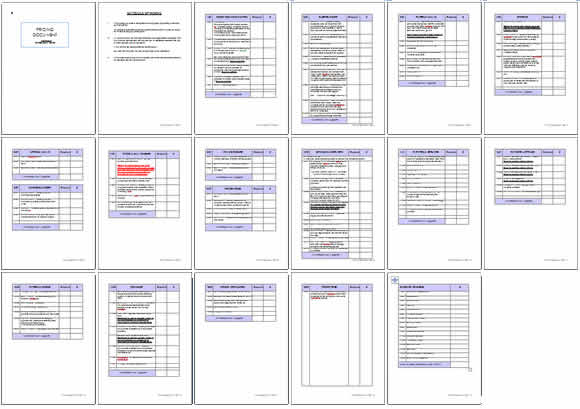 Timescale Program Project Planner (Masonry)
Keeping it all to plan
A project timescale that shows the order of works and how long you can expect them to take. Customisable Word document.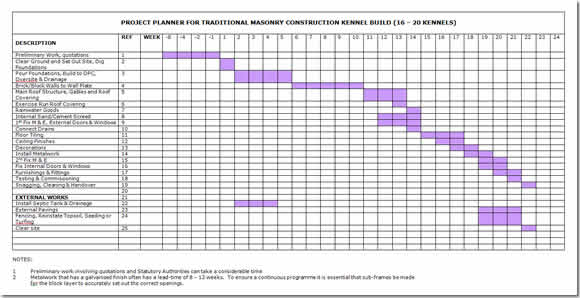 Expert Knowledge & Experience
Our designer, David Key is at the forefront of kennel design. He has over 30 years experience of designing, building, project managing, upgrading and maintaining kennel and cattery buildings and animal hospitals. He knows exactly how hard these buildings have to work for us.
David also has the practical day-to-day knowledge of how buildings can improve animal welfare, impress and welcome visitors and be hygienic and practical for staff to work in and maintain.
Architects come to David for his specialist knowledge and experience with kennel design.
Learn more about David in our FAQs
Highest Standards
Our designs are a far higher standard than the legal requirements in the UK and far higher than any legal requirements we have seen in any other country, including the USA and Canada.
Price Comparison
Compare typical architect/designer fees with ours:
What's Included:

Typical Fees:

Our Price:

Drawings: Planning Set

Working drawings for your builder
Building Specification
3D Visualisations


£2,400.00

up to £5,000.00
£600.00
£1,200.00


£350

£700
included
included

Typically what you might pay to commission an architect and 3D Designer:

Typical Price:

up to £9,683.90

Our Price:

£700!
How are we able to offer such a great price?
David has expert knowledge and many years of experience, so there is no 'learning curve' for him in the way that there will be for architects and designers who have not built kennels or veterinary hospitals before. Our blueprints are purchased by many owners in different countries, to be adapted and decorated by each individual to suit, therefore the cost is shared.
BUY NOW
Delivery
Your documents will be emailed to you personally by Kay and David:
Blueprints in PDF files.
3D images in JPG files.
Building Specification Word/PDF/Excel files.

Please note: we reserve the right to alter and improve any content as deemed necessary.
Buy 10 Room Dog Hotel Blueprints
Do you have questions about our blueprints/plans?
If you need help or have questions, please just contact us as sometimes it can be helpful to talk it through. We want to make absolutely sure you get the right option for your situation and aspirations.