Blueprints for Kennels, Dog Hotels & Animal Rescue Centres
About Our Blueprints
Our generic blueprints are suitable for charities and rescue centres, boarding kennels, working dog kennels, or professional breeding & showdog buildings.
We can also offer bespoke designs (one-off designs).
We provide complete sets of high standard plans - created to keep building costs balanced & reasonable (neither basic nor extravagant). Designed to give you great flexibility, for adapting and running the kennels.
Our kennel blueprints are designed with extensive knowledge of good practice & avoiding the pitfalls.
Well designed kennels are:
Less stressful for dogs and so quieter, safer & built for their welfare needs.
Easy for staff to clean & work in and can cope with the harsh wear & tear.
Built to last.
Asound future investment.
Able to give the "Wow" factor to provide a higher income from caring dog owners who want lovely, happy places for their dog to stay.

Badly designed kennels:
Cause stress, injury and illness
Are noisy, have poor drainage
Are difficult and time-consuming to clean
Have ongoing maintenance and costs
Can be dangerous for dogs and staff
Incorrect or low quality finishes become shabby quickly
Bad design or low standards confine you to a lower income because they attract the dog owners who just look for the cheapest kennels. Don't fall into that trap!
Suitable for a startup kennel, our blueprints are just the right size to make a good basic income and repay the cost of building. Startup kennels would also help prove the business 'viability' should you be applying for finance or grants.
We offer various options for 10, 12 and 20 kennel designs as they are the most affordable numbers of kennels to build whilst providing a great income.
Our blueprints will save you time and money
Readily available
There's no waiting time, no starting from scratch, no reinventing the wheel, no extra architect's fee for each change. Our blueprints are ready to go straight to planning/zoning, or your builder/architect.

Alterations and additions
We can make additional adjustments for you on the plans if you have something in mind, or you can just ask your builder to make changes on the ground.

Perfectly balanced between quality and cost
We offer high standard building designs with a reasonable construction budget.

Takes months/years off your schedule
Hand straight over to your planning/zoning authority, builder or architect).

Drainage - get it right
Avoid the biggest bugbear to all kennel owners.

Specification documents
Saves you money, time & hassle. Place these straight into your builder's hands for quotations/tender and build guidance with a timescale and schedule of works.
Builder Quotations & Guidance
Anyone who has built kennels before will tell you builders know little about getting such a specialised building right. Why is this a problem? If they don't have the full picture, they will massively underquote, resulting in a much larger than anticipated bill for you.

Builders will not be able to provide accurate quotations unless they understand exactly the building specification (standards and requirements) you will need.
As most of our clients are new to, or unpractised, in building kennels, any requirements are an unknown to them too - so we provide this for you.
Our Building Specification:
Quotation/ tender documents - accuracy is everything
Can be handed straight over with our blueprints, so that builders can prepare accurate quotations using the methods & materials specified.

Builder guidance - don't pay for their errors
Specifies precise details on how to build the kennels, and avoid costly & irritating mistakes builders make with kennel projects.

Nothing is 'forgotten'
Startups & Future Business Expansion
Our blueprints are suitable for startup businesses.
They are also suitable for an existing kennel business expansion, or to provide a higher standard of accommodation alongside your existing kennels (more kennels are doing this now they understand the increase in income higher standards bring).
You can also avoid future design costs if you extend the business in the future, because you can re-use the plans!
Customer Locations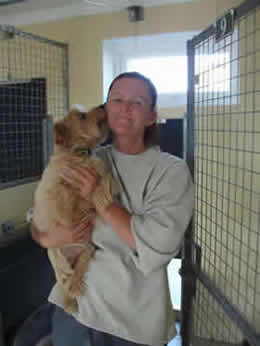 Our blueprints are suitable for building worldwide using materials that are readily available. Our clients are located in:
UK
USA & Canada
Australia & New Zealand
France, Ireland, Italy, Cyprus, Greece, Norway
Nigeria, Romania, South Africa

See locations for the full list
"Thank you so much, every time I go in the kennels I appreciate how well designed they are, and how quick they are to clean!"
Jane Cole, Devon UK